The city of Parkland has about 34,000 people living in this gorgeous parklike environment with lots of greenery, parks, trails and horse country along with gated planned communities. I always use to say that "life is better in Parkand", even before I moved here.
Here are some of my favorite restaurants in Parkland:
Deja Blue, is a beautiful tastefully decorated lake front restaurant that serves Mediterranean style food.  The menu is a complete combination of international cuisine.  Middle eastern, Spanish, Italian, etc.  they have a selection of tapas style dishes so you can opt to share smaller portions of items!  Or you can order regular size entrees that are equally as tasty!  The chicken souvlaki is fantastic, it is perfectly grilled and cooked with lemon potato wedges.  The presentation of the souvlaki is really impressive- it comes as a skewer hanging vertically above the potato wedges.  Their paella is also delicious. It's so wonderful to sit outside overlooking the lake with a gorgeous fountain at the center. Deja Blue also have live music. 
Malbec Grill is another one of my favorite restaurants in Parkland.  If you're in the mood for a mouth watering tender steak, Malbec Grill is the spot and home of the famous moo cow at the front entrance.  Malbec Grill is an Argentine styled restaurant will parrilla style cooking that's meant to share with the table. They also have an excellent wine list and a full bar, plus they have live music and gourmet chocolate desserts. This is a lively spot that hosts many local events and you won't be surprised to see some of your favorite people eating here in this amazing restaurant.
Los Bocados has some bomb tacos, not your traditional type tacos, but still bomb.  They were located inside a local gas station market and just recently moved to swankier digs. But they still have the same great food. I have had events and ordered a take out tray of their bocado bowl which always seems to disappear very quickly. The tacos are really gourmet tacos; big,  fat and so tasty.  They also have vegetarian tacos made from mushrooms, along with tostadas, quesadillas, and of course burritos, I even ran into Yamiche Alcindor, from PBS News while grabbing a taco.
Japango, Sushi, Japanese & Thai food. This has been around a long time and it's one of my favorite restaurants for take out. I love their Miso Seabass which is always so mouth watering, along with their wok tossed noodles. Their sashimi salad is out of this world with the right amount of flavor and avocado. They have a modest wine list. Their sushi is fresh and made to order and the bento boxes are good. This restaurant has an extensive menu with many options and appetizers. Japango is open for lunch and dinner and it's one of the great restaurants that always serves good food. 
Blue Agave Mexican food is one of my favorite restaurants to munch on traditional Mexican cuisine, they also serve Mexican beer on tap which is so refreshing. My favorites are the chicken with mole, Chile Colorado,  cheese enchiladas, Chile relleno and  tacos al pastor. The food is all made fresh and you can choose your spice level from hot-picante to mild.  The décor is colorful and they recently moved to a larger location with out door dining. For those of you who love margaritas, there are many options you could choose from.
Bluefin Sushi is one of the great local restaurants for awesome sushi from award winning  sushi master, Yozo Natsui.  They serve sushi along with Thai food.  One of the most popular rolls is the Lobster Bomb: lobster tempura, avocado, asparagus, scallions and roe. It's topped with spicy tiger sauce. The Dragon Roll is a bestseller with lightly tempura-battered shrimp, avocado, asparagus, cream cheese, roe and spicy mayo with avocado eel sauce.  I love to order the Pad Thai chicken noodles. The service is always really good.
First Catch Seafood is the newest edition to our local restaurants and  started by Greg & Justin, childhood friends who grew up in the neighborhood and are fulfilling a dream by opening this restaurant. Their goal is provide the perfect seafood experience at an affordable price with only the best ingredients.  This restaurant is geared toward take out and outside dining. They have attracted quite a following so far with a delicious menu of seafood and non seafood items. Their lobster rolls and fish sandwiches have gotten great reviews. The Hage Burger is said to be the biggest burger in Parkland. When I was there I had a  clam chowder that was tasty and the mahi sandwich was really good. I'm allergic to shrimp, lobster and crab, but the crab legs I saw served there looked fantastic.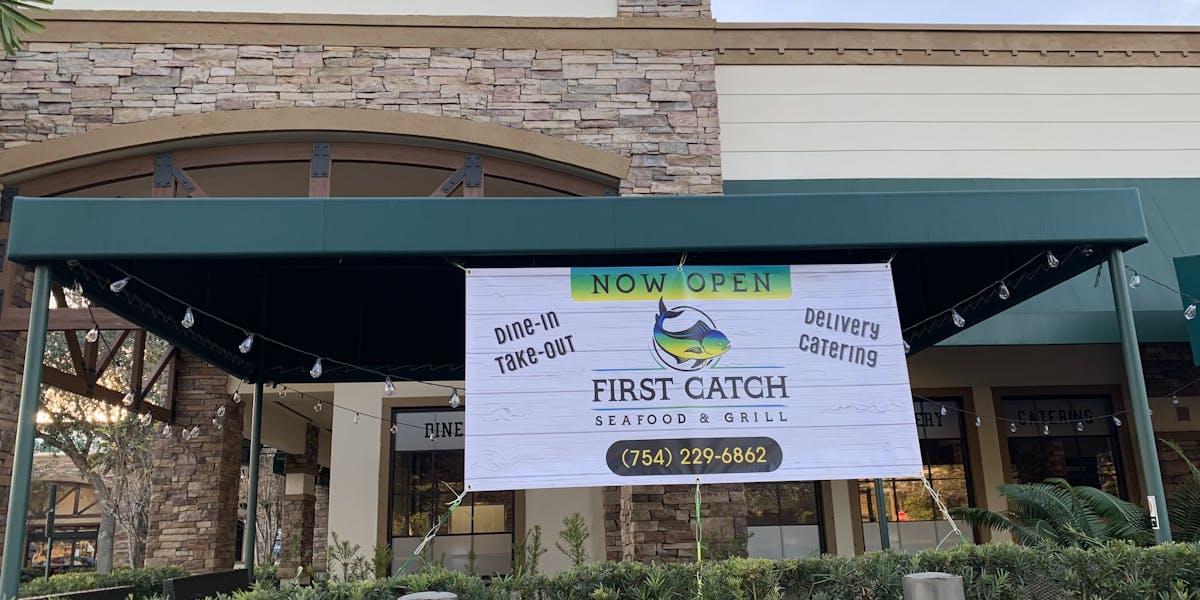 So these are my 7 favorite restaurants in Parkland. Which is your favorite so far? You can find more information about Parkland in this website.