Coconut Creek is considered the "Butterfly Capital of the World". So it's not surprising that you will find a magical place here known as Butterfly World. When visiting you will walk through tropical, flowering gardens in six giant screened aviaries filled with twenty thousand live exotic butterflies and the world's most amazing birds. You'll see beautiful and large butterfly gardens with many different and unique species that you won't find anywhere else. Great picture taking opportunities of the butterflies against the natural rain forest foliage. There is also a small bug exhibit and an orchid garden. You can hand feed the small parrots in the Lorikeet Encounter! You can also visit the Botanical Gardens, Macaw Landing, Butterfly Museum, Live Bug Zoo, outdoor café, gift shop and garden center. This is the perfect adventure for the whole family! The gift Shop and Garden Center are open to the public!
Seminole Casino in Coconut Creek presents itself as the market's most fully-integrated, energized, stylish and upscale local casino experience that features nearly 2,000 slot machines, from classic favorites to trendy new themes, plus 70 live table games with real dealers and real cards, including blackjack, baccarat and poker. Under its roof, the casino offers world-class dining including its award-winning steakhouse, NYY Steak, as well as Sorrisi Italian restaurant, the New York-style 1st Street Deli and authentic Asian cuisine at The BOL. Guests can enjoy live music from a variety of performers and dance the night away to the latest mixes from the area's top DJs at Legends Lounge, Nectar and Sunset Grill. The Pavilion, a 1,200-seat capacity entertainment venue, has been a home to acts such as Wayne Newton, Dionne Warwick, Sophia Loren and many more. Open 24/7, 365 days a year. Super cool to have such sophistication in our little town of Coconut Creek.
Promenade at Coconut Creek is North Broward County's premier open-air shopping and dining experience, featuring over 45 stores, boutiques, and restaurants and Silverspot Cinema – a state-of-the-art, 11 screen luxury theatre! Shopping, food, and fun await at the corner of Lyons Road and Wiles Road in Coconut Creek, FL. It's home of my favorites: Cooper's Hawk, Ethos, Saito's Hibachi and many more restaurants. They have many stores to shop such as clothing, jewelry, accessories, cosmetics, musical equipment, home goods and shoes. They also have different types of service providers, from nails, massage, and much more, plus their movie theatre, Silverspot, serves food and drinks in a luxury setting.
Goldcoast Ballroom was established in 1996. Goldcoast Ballroom is one of the Premier Ballrooms & Event Centers in the United States. They offer public dances on Tuesday, Friday and Sunday evenings, along with group classes in Coconut Creek. They play all styles of music including and their instructors teach all styles of dancing including International & American ballroom, Latin, rhythm, swing, salsa, mambo with some Cha Cha, Merengue and Bachata. I've been here on a Sunday afternoon and the dancing is so fun while watching the skilled dancers is mesmerizing.
Deenie's Hideaway this is an infamous spot in Coconut Creek known as a premier member only swingers club. The website featured an in ground jacuzzi, resort style outdoor area with in-ground pool and tiki beds, both indoor and outdoor bars, with private and group playrooms. I was once at Costco's when I saw this woman with a large amount of oysters Rockefeller in front of me, I commented that she must be having an awesome party with so many appetizers. She smiled at me and said she runs Deenie's Hideaway and that I should visit. I blushed at her invitation knowing full well that I would never visit. I see now that the building is about to be torn down, the owner, Marja having left this episode of her life to help women through ministry. It is fitting that across from what was Deenie's Hideaway stands a brand-new church.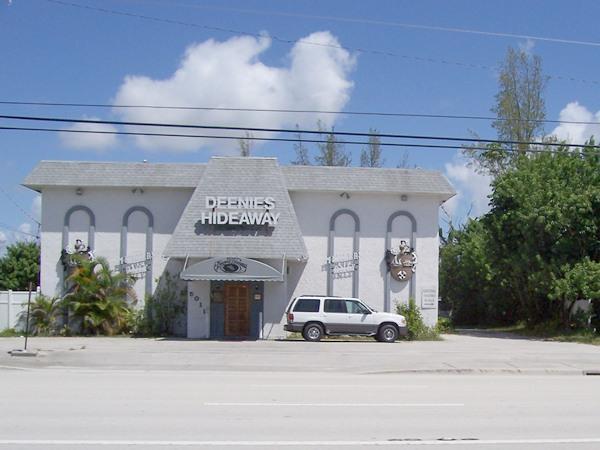 So there you have it, some interesting places to visit in Coconut Creek. I hope this will help you plan your sightseeing and find the best places to visit here in Coconut Creek.